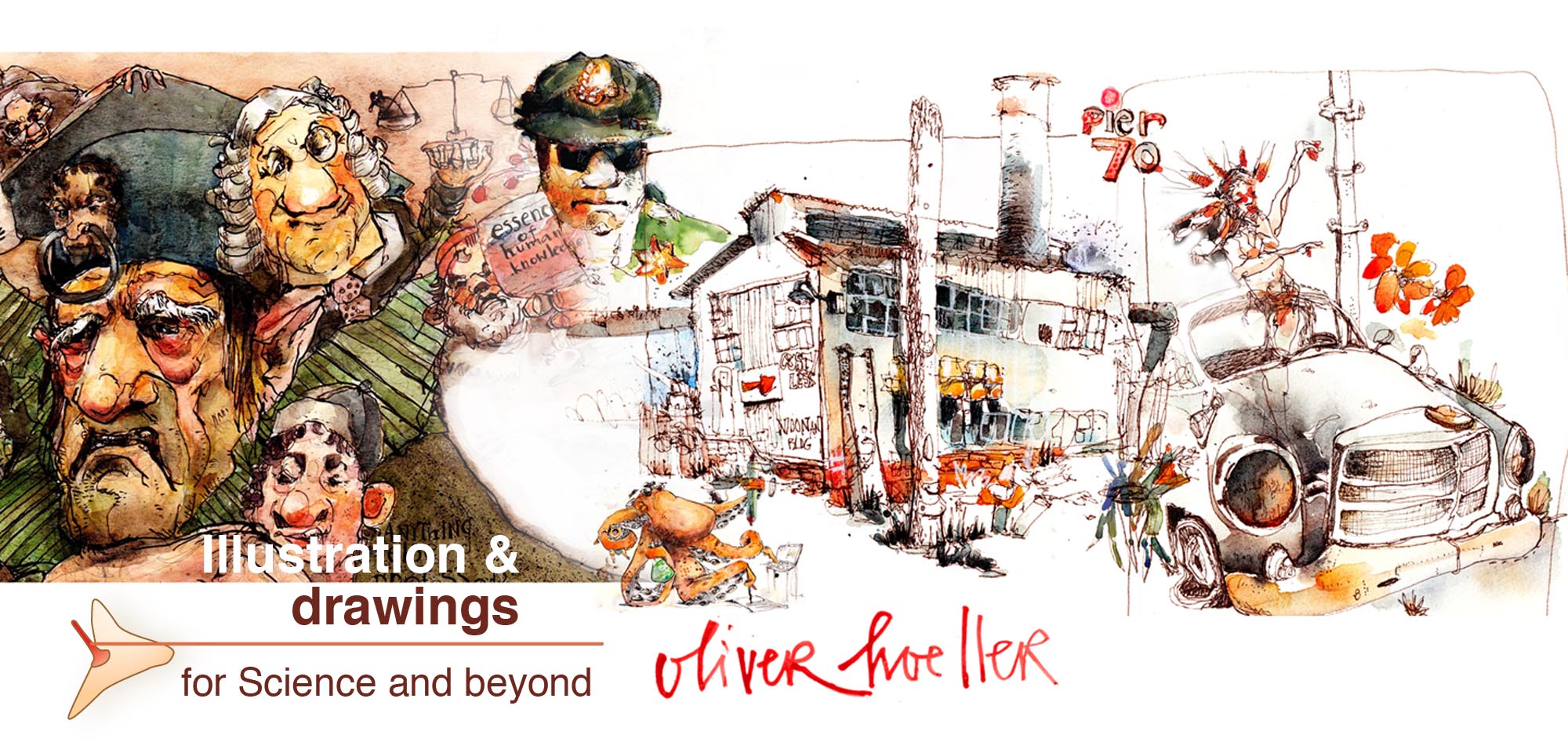 SILENT AUCTION OF ORIGINAL SCIENCE ART
- a perfect gift for the holidays.

How to get your piece:
1.) flick through the catalog above (select full screen) and pick your favorites.
2.) send me an email (hoelleroliver@gmail.com) with the title and your bid by December 7th 2018.
3.) The highest bid for each piece will win it. The minimum bids are shown in the catalog. After December 7th, I will be in touch about shipping arrangements to make sure the pieces get to you in time for the holidays.
4.) Immediate buy option: an offer of 3x the minimum bid will get you a piece straight away (if it is still available) and remove it from the bidding process.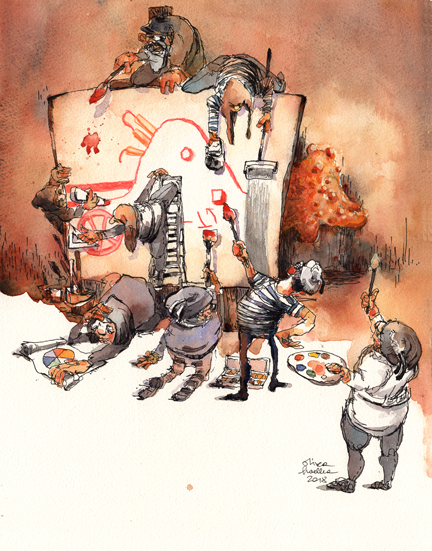 I approached Oliver with with a challenge to capture the essence of our lab's research in a single image, and was extremely pleased with the result. We spoke about the nature of our science, exchanged ideas and emails as rough sketches were produced, and watched as key concepts emerged put of the drawings. The final image surpassed my expectations, and truly captures the essence of our work. I am excited and proud to use Oliver's art as a 'visual ambassador' for our science to colleagues and students.

W. Mike Henne, PhD,

Assistant Professor, UT Southwestern Dallas

Oliver was commissioned to generate a painting for our departmental website. We were extremely pleased by both his vision and artistic execution in conceptualizing the fields of cell biology, developmental biology and epigenetics. Likely due to his extensive training as an experimental researcher, Oliver has a extraordinary ability to render abstract scientific concepts. I have really enjoyed working with him and look forward to our next collaboration on journal cover art.

Matt Good, PhD.,

Assistant Professor, UPenn

It was  pleasure to work with Oliver on this project. He transformed our science into an artistic image while emphasizing the key message. Although working on a tight deadline, he was very flexible with respect to our comments. I can highly recommend his service.

Dr. Henning Tidow,

Professor, University of Hamburg

We came to Oliver with a tight deadline. He put an artist's view to our story, while ensuring solid understanding of the biology behind it. I can highly recommend his service.

Christine Vogel, PhD.,

Assistant Professor, New York University
University of California Berkeley
University of Vienna
University of California San Francisco
University of Pennsylvania
University of Hamburg
LMU Munich
Rockefeller University
Georgetown University
Institute Curie
UT Southwestern
Yale University
University of Wuerzburg
Cairn Biosciences
...